Teach kids to read early and playfully to ignite a lifelong passion for reading.
The simplest way to become an early reader is to go through these 3 steps below:
mastering the alphabet,
acquiring syllable reading skills, and

progressing to early reader books—starting with simple sight word-based books and gradually advancing to more complex ones.
After guiding my daughter to become a fluent reader in 3 languages by the age of 5. I am now in the midst of preparing a tutorial while going trough the same process with my 3 years old son. Let's make this journey together!
 Most important strive to practice everyday even if just for a few minutes!
How to teach kids reading - Step by step
Level: 0
Age: 2+
The very first step is to distinguish between two letters. Starting with vowels is easier, A and O are my favorite. Having multiple copies of each letter helps the brain remembering.
Level: 1
Age: 2+
Once the first two letters are mastered you can introduce a 3rd letter while still practicing with the previous ones. Here I am introducing vowel sound E.
Level: 2
Age: 2+
Keep introducing new letters and repeating the previous ones. Here I am introducing letter I.
Download here these alphabet cards ready to be printed and cut out. They serve as fantastic tools for helping your child learn new letter sounds through engaging games that enhance memory, making it enjoyable to practice a single letter multiple times.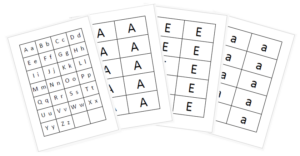 Level: 3
Age: 2+
Introducing the concept that some vowels have 2 sounds. Here I am introducing short /ɪ/ vs long /aɪ/ I sound.
More videos
coming soon...
Here below some additional tools you can also use to have a more enriching experience:
More reading tutorials are coming
Subscribe to reading updates to get notified